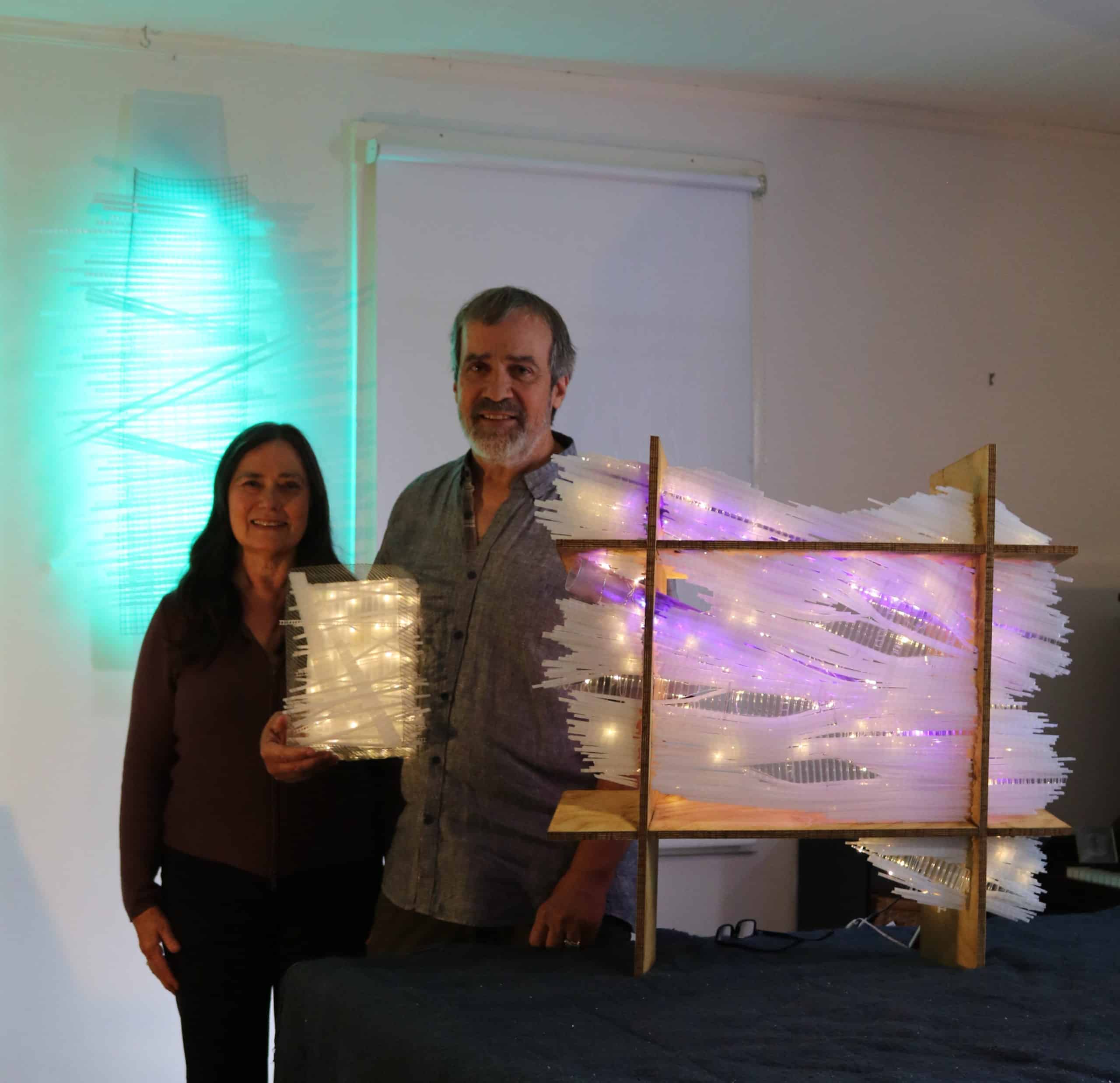 Artist Statement: Reid Dennison
People often ask me, Where did I get this idea?
In one of my frequent home renovations, I used polycarbonate twinwall to create Japanese shoji-style room dividers.  I loved the pearly lamplight shining through the translucent panels in the evenings.  I had one very narrow strip of the polycarbonate, slender trim from one of the screens.  I liked the way that looked, a very delicate ladder.  I began to play.
I've always liked having a source of low light in certain rooms of the house, especially the bedroom.  We stopped using candles when we realized how much they  pollute the indoor air and how their flickering tires the eyes.  We found a five-foot Ikea boudoir fabric light and hung it in the corner of the bedroom. The diffused light from the warm LEDs created a shimmering halo of low-level light.
I thought, I'd like to make something like that.  So I did.
— Reid Dennison, September 2020
About Reid
Reid Dennison worked for thirty years shaping light as a film editor on award-winning documentaries including The Plague Monkeys (1995), Hollywoodism (1997), Soldier Boys (2003), After Fidel (2007), and The Disappearing Male (2008).  He received a Gemini for best picture editing in a documentary (Jesus in Russia, 1997).
Now he works with light in more immediate media, cutting, twisting and marrying translucent polycarbonate strips to acrylic tubes, wire mesh, plywood, tree skeletons, old tv monitors–all woven through with LED lighting.
About Cara
Cara Sullivan has written fiction, poetry, magazine articles and  book reviews.  She wrote and directed a radio documentary for the CBC, Worth the Whistle, about her experience in the 2009 International Whistling Competition in Wake Forest, North Carolina.
Cara has been taking pictures since her folks gave her a Kodak Brownie fifty years ago. On walks in the woods, she looks for traces of people and other animals left on the landscape.