Decided you want a Lumencrafter light sculpture? Most of our business is commissions; let us know which design you love and Reid'll construct a sculpture along those lines for you. But no two Lumencrafter sculptures are ever exactly alike.
Want something special? Reid loves doing custom designs. Here's how to start the process:
Consider which of Reid's sculptures appeal to you most.
What colour, shape, or materials do you like?
Do you want to light up a space [functional lighting] or create a mood? Or are you simply wanting to create a centre of interest in a certain space?
Do you already know where you want to place it? Wander through your home and imagine your light sculpture in particular spaces. Are you thinking:

wall sconce, floor sculpture, pendant, table or ceiling light?
battery-powered, plug-in or wired-in, worked by a light switch or remote?
light effect: moving or static?

Check out the prices of our sculptures and think about your budget.
Measure and photograph the space where you'd like to place it.
Send us an email with the photographs, space dimensions and details. lumencrafter@gmail.com
We'll contact you to set a time for you and Reid to talk.
If you're comfortable, we'll video-conference so you can see a variety of sculptures in our home setting and we can see where you want yours to go.
We come to an interim understanding; Reid does some sketches and maybe a maquette if it's a totally new piece for a special space.
You and Reid agree on a concept, design, materials, timeline, budget. This may take a few conversations.
We draft a contract; you sign it and send us 50%; the balance is due on delivery.
Reid can install it for you, if it requires special wiring or careful hanging, and if you live within 150 kilometres of Flesherton, Ontario. Basic installation fee is $100.
An acquaintance walked in to our living room, saw City of Light, and said, "Can you do me one like that?"
Reid certainly could and did – but, as Reid said, "You never know when the Muse will demand changes in a concept." The new version was made with a transparent acrylic tube, instead of a wire cage.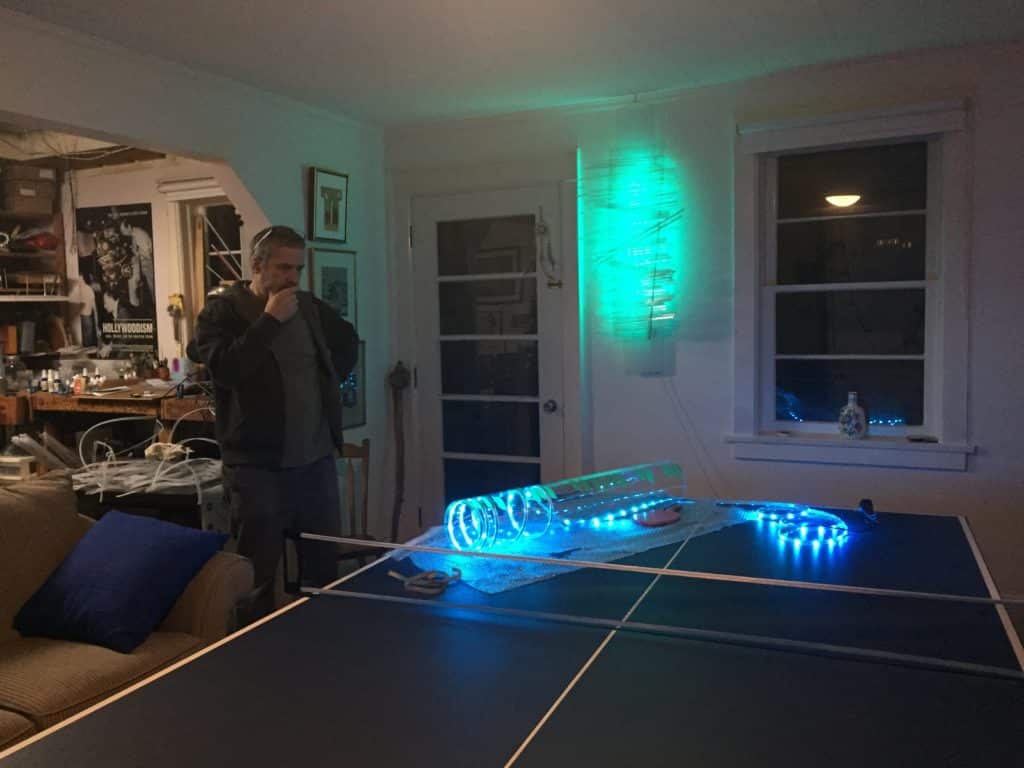 Making a maquette starts with pencil, paper and scissors, proceeds to cardboard and sometimes plywood models. There'll be no pingpong tonight, I'm afraid.
For more information about Lumencrafter art and commissioning your bespoke LED polycarbonate light sculpture, contact us.